A continuació, s'especifiquen tots els pasos a seguir per una correcte distribució de Revo HANDY.
El client ha de tenir creat a Revo SOLO un compte d'Adyen. Si no es el cas, s'ha de parlar amb el distribuïdor perqué el tingui creat.

El compte del client de Revo XEF ha de tenir activat HANDY. Sinó parlar amb Sandra.

Carregar apk webview
Accedir al back-office Adyen amb les nostres credencials i Account:Company.RevoSolo
Point of sale > Android apps > Upload app
Arroseguem el fitxer a 'Drag Your APK file here...', indiquem una descripció com per exemple: Versión 1.1 (55), fem click al check i Upload app.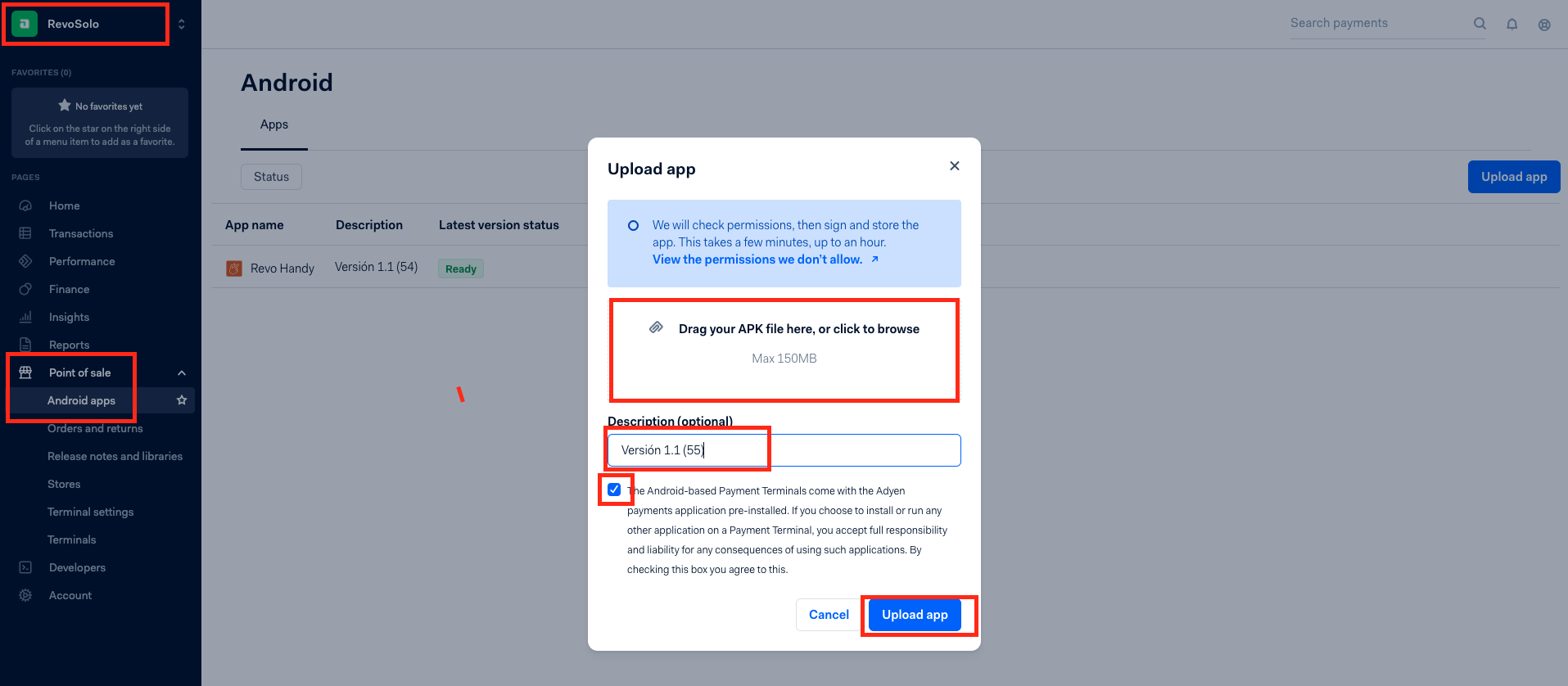 Nota: App pot trigar un minuts ha ser pujada.
Asignar apk webview al terminal HANDY.
Point of sale > Android apps > Seleccionem la app amb doble click.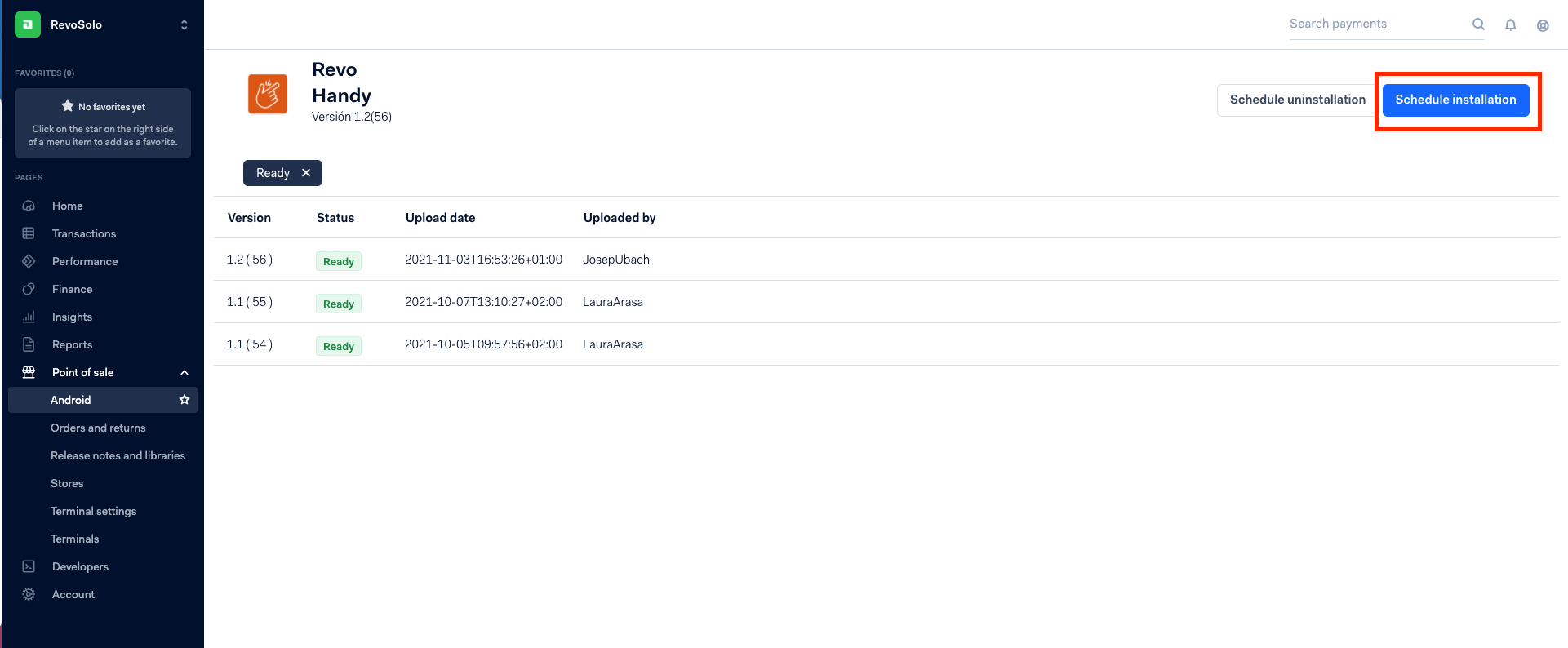 Busquem app a instal·lar i número de sèrie del HANDY on la volem instal·lar, finalment Install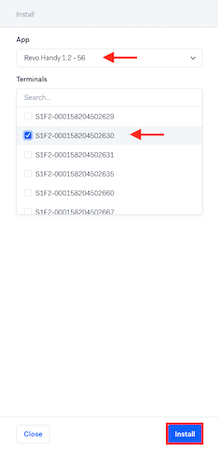 Al dispositiu HANDY. Settings > Apps, per ser instal·lada.

Permetre que amb el dispositiu HANDY cobrar amb targeta.
Afegir integració HANDY a Revo XEF

Api Key: AQEqhmfxJoLIaBRLw0m/n3Q5qf3Veo5bAqBFVGqhfLovMzhq9hn4q3zBVnf3EMFdWw2+5HzctViMSCJMYAc=-ffX9e9Aro9V/0y3oopoa0c2Cz/VdccCOTvCPd6n6O3g=-*7L#z&b,~BDa7uU3
Dispositivos: Afegir el terminal HANDY.
Sub-merchant Account: número compte Adyen creat pel client a SOLO.
Commission %: 0,75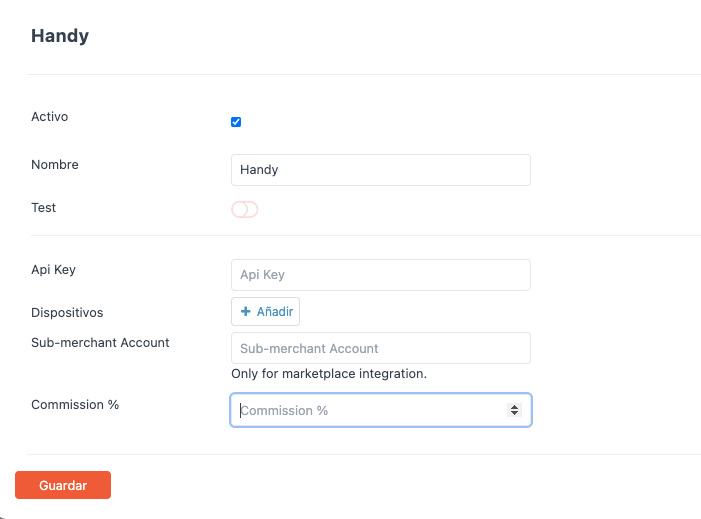 Si volem que el HANDY es faci servir com a detàfon de XEF. Seguir el pas 3 de l'article adjunt. IMPORTANT: en el camp Commission %, el valor ha de ser 0,75.

Fer l'enviament al reseller